* Inspirational Quotes *

Provided here for your enjoyment are some quotes I find inspirational and enlightening to me while traveling this road called "Life". I hope they will be as meaningful to you. Some will change on a daily basis, and others will remain as their message is timeless.
* ENJOY *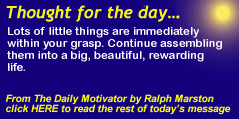 Know Thyself
-- Socrates

The Medicine Man says,
"Hear your own heartbeat.
Put your ear to your own heart and
listen with a sharp ear."
- - - - -
Into the water's world she looked
to find where she belonged.
She found the answer staring back
It was her Self she found.

-- Blackwolf Jones, Listen to the Drum

We are all visitors to this time, this place. We are just passing through. Our purpose here is to observe, to learn, to grow, to LOVE... and then we return home.


Be not forgetful to entertain strangers, for thereby some have entertained angels unawares.


Here is a test to see if your life on earth is finished:
If you're alive - it's not.

-- Richard Bach, Illusions

There is no such thing as a problem without a gift for you in its hands. You seek problems because you need their gifts.

-- Richard Bach, Illusions

We must have more faith in the power of love to eternally renew itself than in the power of fear to tear us asunder. The spirit does not turn away from human frailty or conflict, but sees them merely as wounds to heal.
-- Marianne Williamson, Illuminata

"...there is such a thing as perfection...and our purpose for living is to find that perfection and show it forth....Each of us is in truth an unlimited idea of freedom. Everything that limits us we have to put aside."

...from Jonathan Livingston Seagull, by Richard Bach

It is only with the heart that one can see rightly;
what is essential is invisible to the eye.

-- Antoine de Saint-Exupery, The Little Prince

"If we always do what we've always done,
we'll always get what we've always got.
And if nothing changes....nothing changes."


The world we have created is a product of our thinking. It cannot be changed without changing our thinking.


The world is round and the place which may seem like the end may also be only the beginning.


If I accept the sunshine & warmth, then I must also accept the thunder & lightening.


You can't know the happy, without knowing the sad.


The best and most beautiful things in the world cannot be seen or even touched. They must be felt with the heart.
-----
Face your deficiencies and acknowledge them;
but do not let them master you.
Let them teach you patience, sweetness, insight.
When we do the best we can,
we never know what miracle is wrought in our life,
or in the life of another.

I believe in the fundamental truth of all great religions of the world. I believe that they are all God-given and I believe that they were necessary for the people to whom these religions were revealed. And I believe that if only we could all of us read the scriptures of the different faiths from the standpoints of the followers of these faiths, we should find that they were at bottom all one and were all helpful to one another.

I take NO credit for the quotes listed here. They are a collection of profound words that make a difference in my life. I hope you can appreciate the broad spectrum of authors, and come to realize that we really are ONE, eminating from the one universal Source of Love. This Source knows no religious, cultural or racial boundaries, and weaves that Love into a beautiful tapestry called Life. Thank you for visiting.
Walk in Peace.

MITAKUYE OYASIN!

Click the "arrow" below to view more pages.
( ** Indicates newest pages.)
WebTV users please go to my HOME page for text links.



If the above link does not work, please CLICK HERE for help.
(Page will open in new window.)
Truly an honor to receive THIS award!

Week of February 21, 2000.

This background and graphics are my own creation. If you would like to use them, you may find them HERE for download.


If you would like the best sounding music
for midis & MP3 on your computer,


Also basic version available free at:

This site © 1998-2003,




D I S C L A I M E R


Ishaah's Inspirations is an Intermix Media, Inc.® site. © 1998-2003 | Privacy Policy.